What you need to know
Google has announced its all-new Chromebook Plus initiative.
The main goal of this is to make it easier for consumers to make a decision about what Chromebook to buy.
Chromebook Plus models will be priced starting at $399, with options coming from Acer, HP, ASUS, and Lenovo.
Those who purchase a Chromebook Plus device will enjoy unique features that aren't found elsewhere.
Over the past few months, we've been hearing rumblings about Google potentially launching a new branding for Chromebooks. Today, Google announced said branding, as there will be an all-new lineup of 'Chromebook Plus' devices. 
One of the current problems with trying to figure out which of the best Chromebooks you should buy is that there are simply so many to choose from. Instead of trying to figure out what combination of specs you might need, anything branded with the Chromebook Plus moniker is equipped with a minimum of these specs:
Intel Core i3 12th Gen or above, or AMD Ryzen 3 7000 series or above
8GB+
128GB+
1080p with Temporal Noise Reduction
Full HD IPS or better display
This, along with the recent extension of AUE dates for Chromebooks, aims to provide reliable and sustainable devices for years to come. Along with the minimum specs for anything branded as a "Chromebook Plus" device, Google says pricing will start at $399 and these devices will include some unique features.
With the requirement of at least a 1080p webcam, video calls on your Chromebook are getting a boost from the software. While you're on a call, you can pull up some controls from the shelf, including toggles to "Improve lighting," enable "Noise cancellation," or "Live caption." 
If you have a mess behind you or simply want to conceal your surroundings, there are also three settings to adjust the background blur. And Google understands that not everyone uses or relies on Meet, so it's confirmed that these tools will work "no matter what video conferencing app you use."
The fun doesn't stop there, as Google is also trying to make Chromebooks viable for anyone who wants to edit pictures with ease. For one, the excellent Magic Eraser feature is coming to the Google Photos app on Chromebook Plus laptops. 
While there are a bunch of great options within the Google Photos app, there are times when you need a bit more control. That's where Adobe's announcement of Photoshop on the web comes in.
The company has been working on a web client for the Photoshop app, and it's finally here. With it, not only are many of the most-used features and tools available, but Adobe is also bringing its generative AI feature to the web.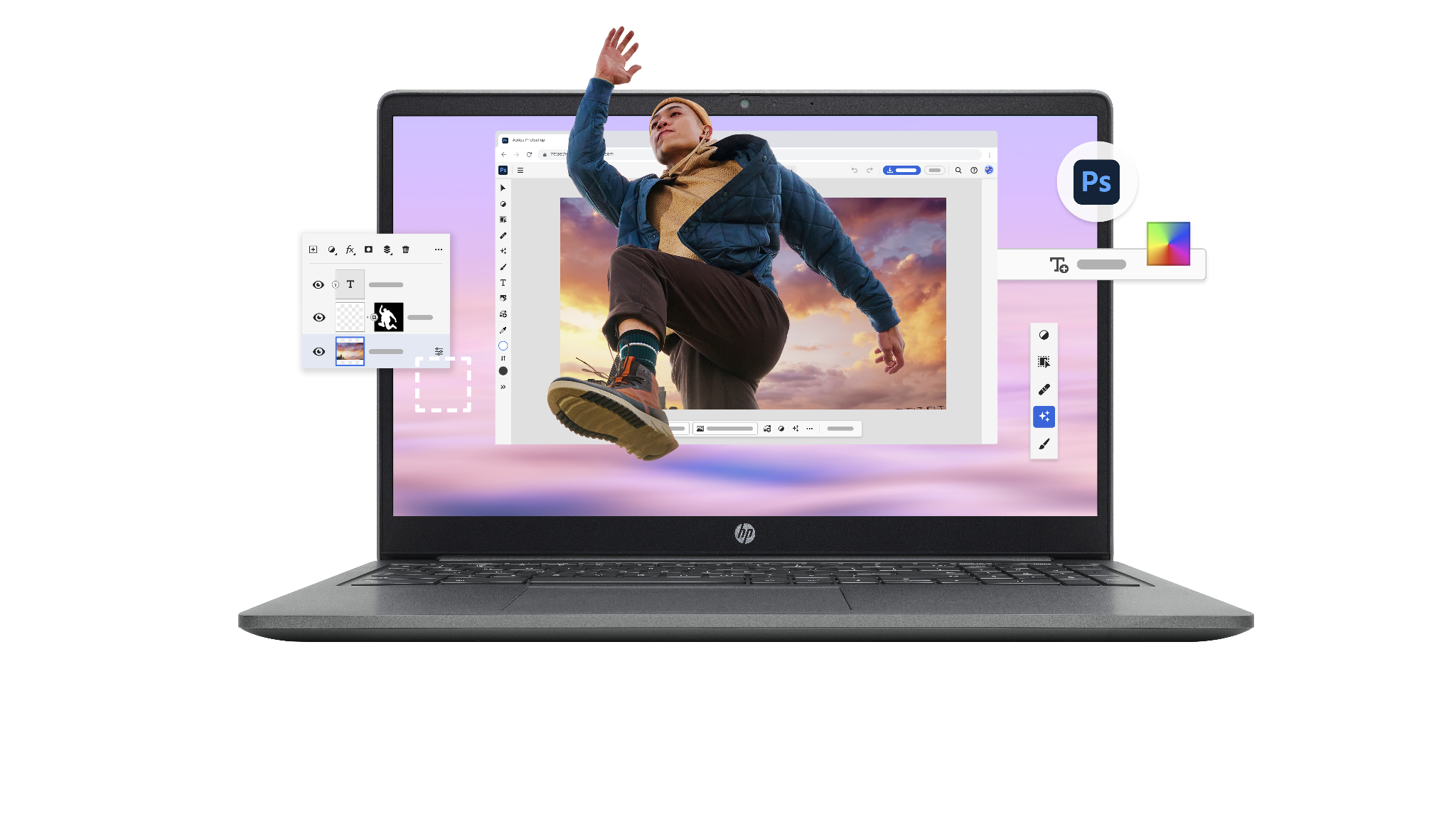 Previously, this was only available for those using the full Photoshop app on either macOS or Windows, but that's no longer the case. As a bonus, Adobe and Google include "three months of Adobe Photoshop on the web and Express free, when you purchase a new Chromebook Plus."
Additionally, more of Google's AI efforts are officially making their way to ChromeOS, as the company is also including a "no-cost trial" of "Duet AI in Google Workspace." This is Google's way of flexing its AI muscles in conjunction with apps you use every day, such as Gmail, Docs, Meet, and more. 
There are more features in the works for those who pick up one of the Chromebook Plus laptops. Unsurprisingly, it's all about "generative AI," with the ability to "draft and refine shorter-form content across websites." Google is also hoping to make it possible to generate "custom wallpapers using easy templatized text prompts."
If you're interested in picking up a Chromebook Plus laptop, you don't have much longer to wait. Acer, ASUS, HP, and Lenovo will all begin selling different options beginning on October 8, with pricing starting at just $399.