Android 14 is full of fun new features, particularly for Pixel phones. Google has added some new customization options that bring more life and personalization to the home and lock screens, and among them are the new AI wallpapers. These allow you to use various words to describe the type of wallpaper you want, and the phone will generate them for you in an instant, giving you several different options to choose from.
Generative AI Wallpapers in Android 14 are created using Google's text-to-image diffusion model, something we've seen in other places like Google Search. The feature comes "first" to the Pixel 8 series, available now, but that makes it seem likely that it will arrive on other Android phones down the road, likely on other Pixels next.
The feature is actually pretty cool and is capable of creating some interesting wallpapers. Here's how you can get started creating AI wallpapers for yourself.
How to create AI wallpapers on your Pixel 8
1. Press and hold your home screen, then select Wallpaper & style.
2. Select More wallpapers toward the bottom.
3. Select AI wallpaper on the top left.
4. Select a theme from the available options.
5. Tap on the underlined words to change an attribute.
6. Tap the Create wallpaper button at the bottom. Alternatively, you can tap the Inspire me button that appears at the bottom to randomize the attributes.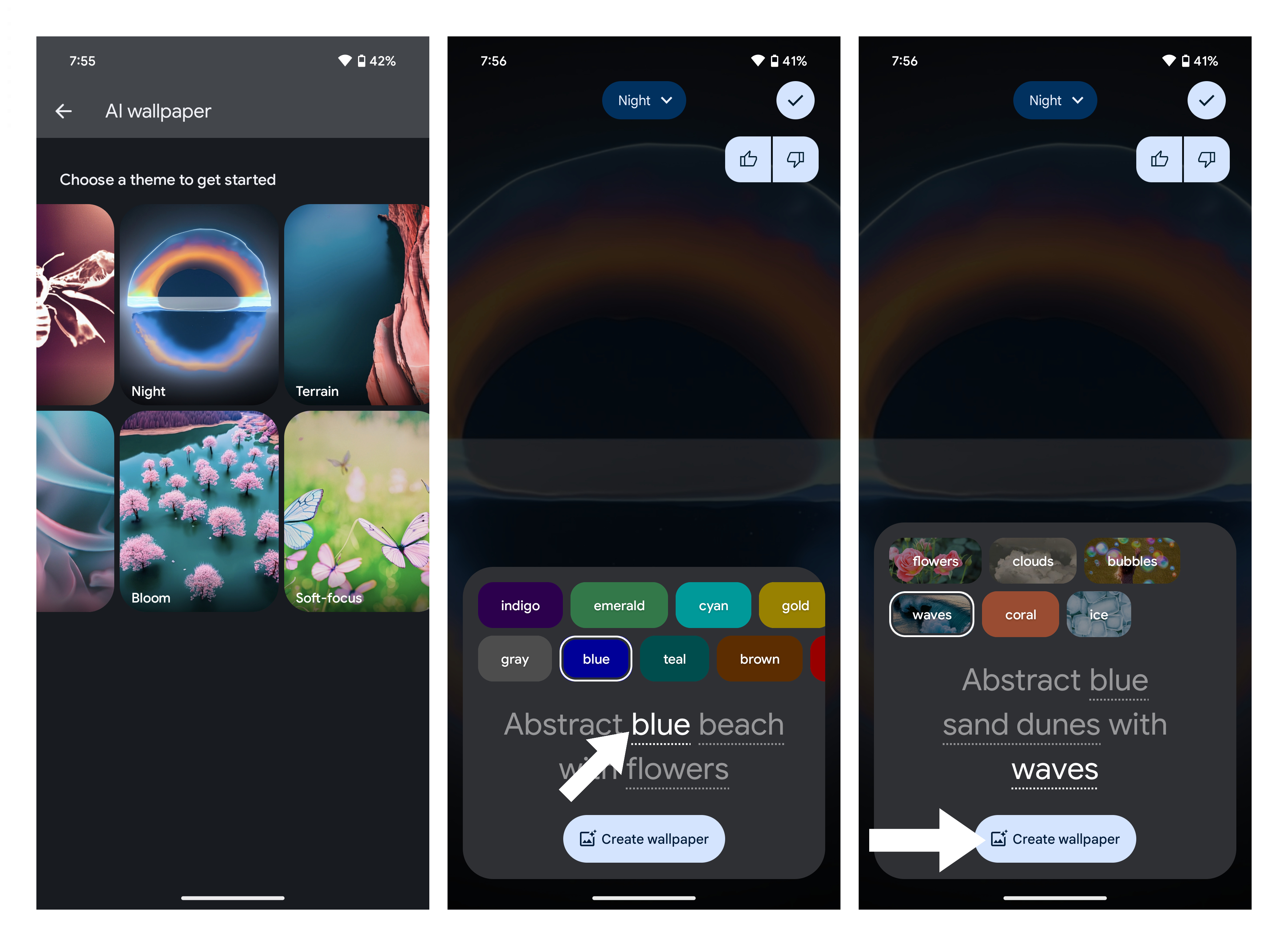 7. Wait for the image to generate.
8. Swipe through the available images and select the one you want to use. If you don't see any that pique your interest, tap one of the words (you can change it if you want) and hit the Create wallpaper button again to generate different images. You can also tap the drop-down menu at the top to change the theme.
9. When you find an image you like, tap the check mark in the top right corner and follow the flow to set the image as on your lock screen and/or home screen.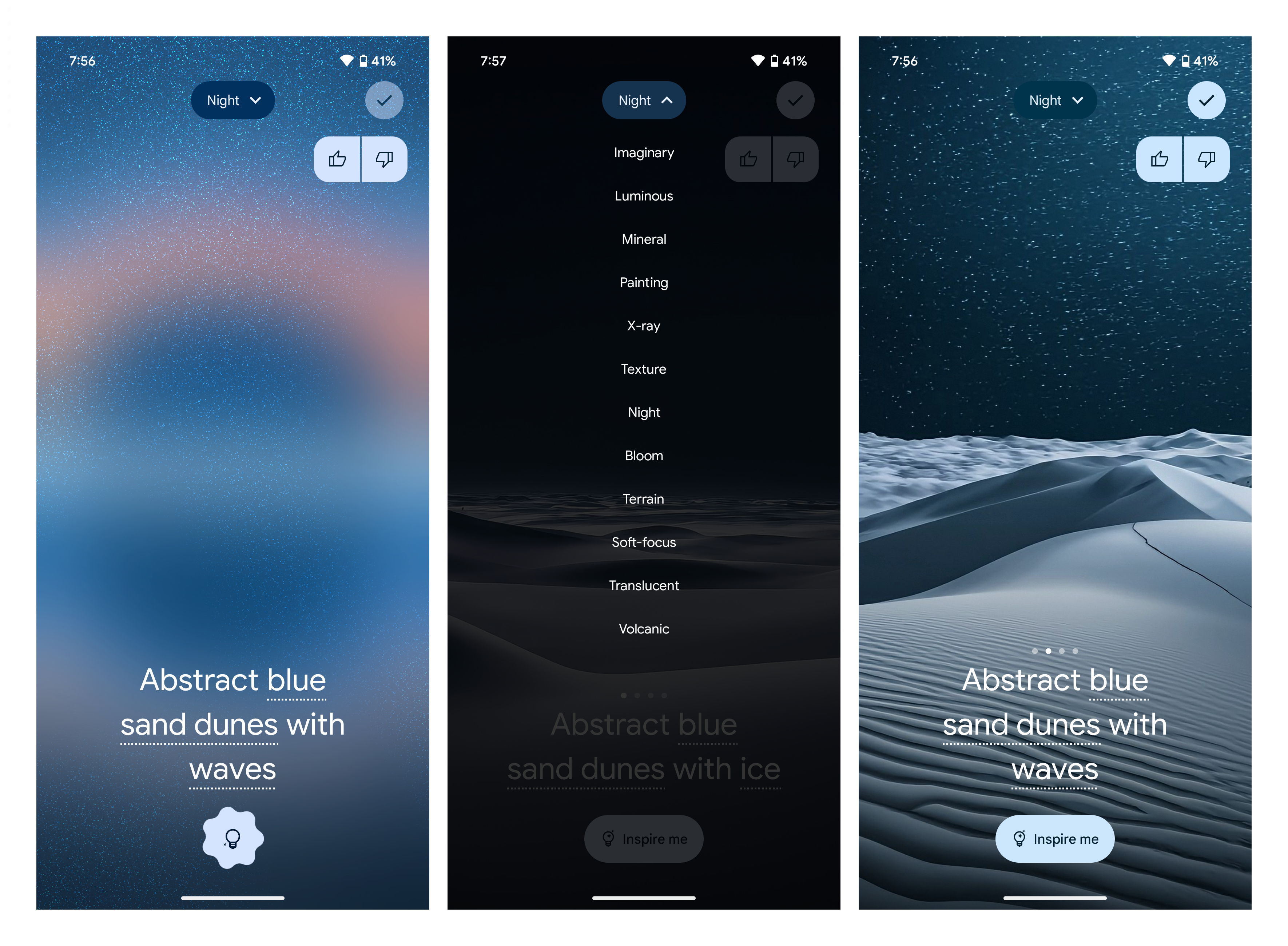 The feature is pretty cool, but it still feels limited
Generative AI is all the rage these days, so it's great to see Google already leaning into this with Android 14. Still, I wish Google took it a little further with AI wallpapers. Don't get me wrong, AI wallpapers are very cool. My problem is that they're very limited, and you're restricted to Google's own prompts and attributes.
We're already seeing Google leaning into text-to-image diffusion with Search, where users can just write in the search box what they want to see, and this is the kind of level of freedom I wish we had with wallpapers. I would love to be able to create cool Retro Wave-inspired wallpapers or just have Google go absolutely bonkers with its creations. Instead, Google's limitations make for some nice images, but they're all pretty tame.
But in addition to more freedom, I would also love to be able to share these creations with others. If I make a cool wallpaper, I would love to see a share button appear so I can send my best results to others and vice versa. For now, we're limited to taking screenshots and cropping or sharing the text attributes we chose and hoping the other person can produce the same results, which may be easier said than done.
Perhaps these additions will arrive in future updates or with Android 15, but for now, we'll have to make due.
All the best AI features
Enjoy Android 14 out of the box with the Google Pixel 8, this year's affordable Pixel flagship. The device packs a hefty punch, bringing you awesome AI-based features such as generative AI wallpapers, Magic Editor, Audio Magic Eraser, and powerful on-device translations.