Let's face it: out there in the ether, in a galaxy far, far away, stormtroopers have a well-earned reputation for being terribly inaccurate with a laser gun. And while that inaccuracy may be a fun running joke, one that works in the Star Wars universe, that could definitely be an issue when it comes to your fitness wearable of choice.
In this piece, I'm going to help you not get Jedi mind-tricked into buying the wrong fitness tracker by taking my own trip to the Galaxy's Edge and giving you a look at Tomorrowland today.
I visited Disneyland during Halloween, a time when they deck the park out with some great thematic elements and decorations. As I looked at the products and reviews I was slated for, I thought, "What better way to test some of the fitness and practical elements of Google's latest wearable releases, the Fitbit Charge 6 and Google Pixel Watch 2, than to wear them to the Magic Kingdom and see if they contribute to me being in my happy place at the happiest place on earth!" So, that's what I did. And I ate churros. And it was glorious!
Accuracy: Stormtroopers vs Pixel Watch 2
In the days leading up to my trip to the Mouse House, I'd already begun wearing and testing both watches, so I was already familiar with how they behaved, although I'd yet to really dig into things like testing step count accuracy or seeing what the flow was for paying via Google Wallet with the Fitbit Charge 6. 
That morning, I took both watches off their respective chargers around 10 a.m. Since I was cooking and getting ready, also knowing that I'd be arriving at the park, hopping on the parking tram to get to the park, and then standing in lines to get into the park, I didn't begin counting steps until we actually got into the park. Once we were into the park and I was ready, tally click counter in hand, I began my step count test. At that point, the Charge 6 had already registered 2,156 steps, while the Pixel Watch 2 registered 2,492. That's almost a 340-step count difference between the two!
But which one is actually the most accurate? 
With that question needing to be answered, I noted those numbers and began to click the tally counter with each step. I really wanted to be thorough, so I clicked for every step I took. Every. Step. That means that even when I was standing in the line at Smuggler's Run and shifting my stance, technically taking a step, I counted that.  
The Fitbit Charge 6 and Pixel Watch 2 (which I'll also refer to as PW2 from now on) both count steps using an accelerometer and algorithms that count an arm swing as two steps, and that may mean that my subtle shift in stances might not register. Keep that in mind with my final number. I was going to stop counting with the tally counter around 5k steps, but before I got that far, I checked in to see where I was. At around 2,000 steps on the clicker, I took a quick look at where both watches were. According to my calculations, Fitbit's Charge 6 was showing only a 13-step deviation from my tally counter, while the PW2 was around 40 steps off. The former is a respectable deviation, but I was surprised by the latter. 
I hadn't been to the new Star Wars: Galaxy's Edge, so that was the first stop on our trip to the Magic Kingdom. After walking to the new section in the park, walking around Galaxy's Edge to check out what it had to offer, standing in line for Smuggler's Run, then walking over to, standing in line for, then exiting the Rise of the Resistance ride, I was at 5,827 steps according to the handheld tally counter. I looked at each device to see where they were, then added that number to the 2,156 and 2,492 steps I'd already registered before I began counting. That roughly 300-step difference between the two devices persisted, but it was their final numbers which proved interesting.
The Fitbit Charge 6 was off by 351 steps, while the Pixel Watch 2 was off by 480 steps. Now, remember what I said in the beginning? These devices use movement in the form of arm swings to count steps, though even if you have your hands in your pockets while walking, they should still count steps; that is a major caveat to this test. My subtle movements while standing in two ride lines for a total of almost two hours are difficult to account for. 
The primary takeaways here? 
Know that your steps aren't going to be quite that accurate if you hit an amusement park or the like. But the most important part is that it would appear that the Charge 6 is a more accurate step counter than the Pixel Watch 2.
Now, this isn't a reason to be down on the PW2. This is something — if it is indeed an issue beyond my own test — that can likely be resolved with a software update and improve the step counting experience. With the PW2 being off like it was, I went for another tally counter test… for the sake of empiricism. This time, during my lunch break walk of 4,274 steps, approximately two miles, the PW2 was off by 105 steps.
Run! You're being haunted… er, tracked!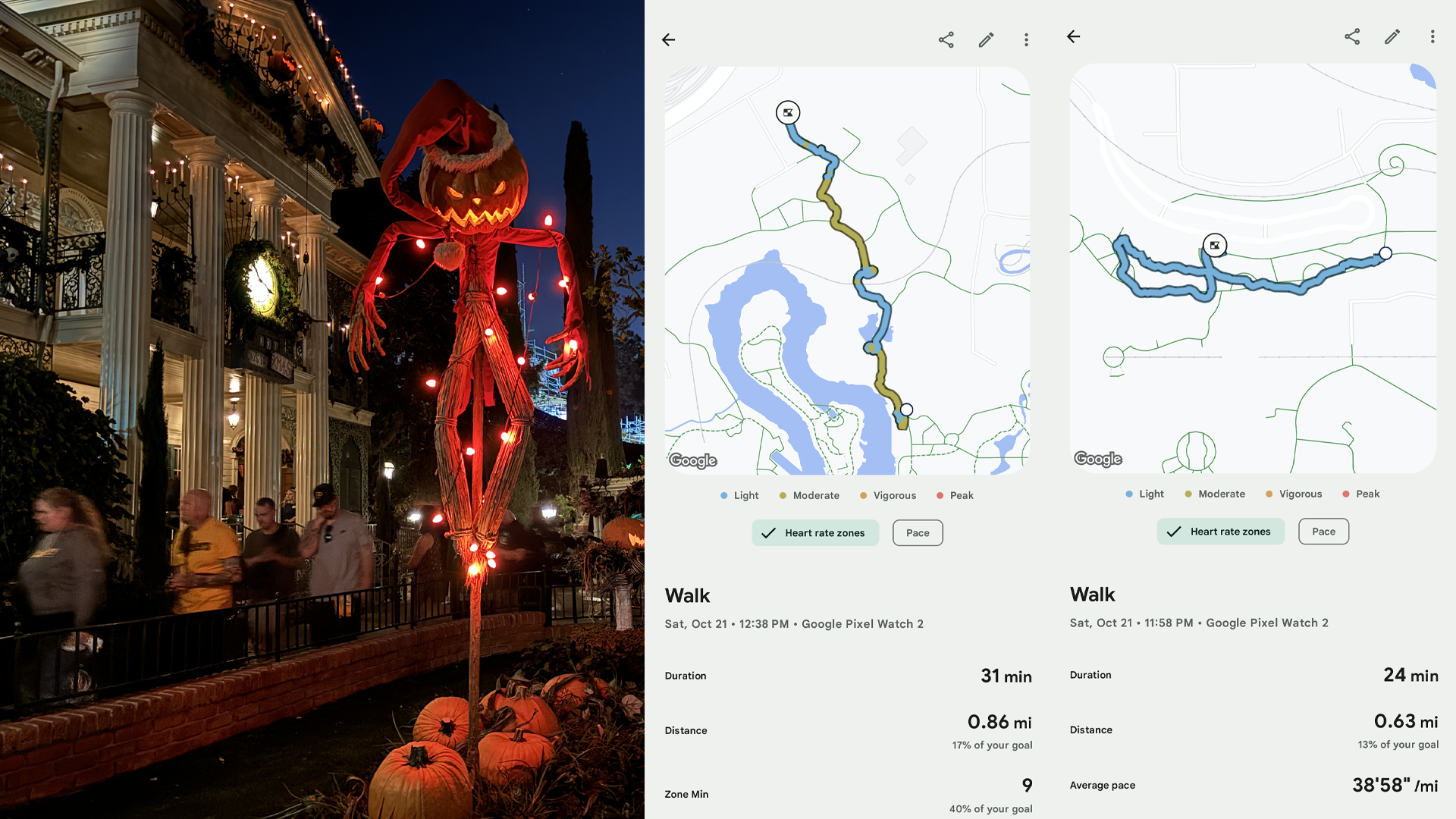 Next up, we needed to test the automatic exercise counting for both devices, and I have to say that they were evenly matched here. Both devices were set with this feature turned on, and I had it set to begin automatically recording a walking workout within 10 minutes. The Fitbit Charge 6 and Pixel Watch 2 both recorded two of four walking workouts beginning at the same times for similar durations, while the Charge 6 recorded 20 minutes less activity on my first automatic walking workout and 10 minutes less on the last recorded walking workout for the day. 
Looking at the workout stats, the Charge 6 had approximately 100 fewer steps counted during a walking workout, but for two of the four, the PW2 also recorded GPS data, which gave me more metrics to look at overall. Those metrics included pace times, elevation, and distance traveled. I don't know why two of the workouts had differing durations, but I'll keep monitoring that.
Next, I would talk about battery life, but I want to save that for the wrap-up since that will end my day. So, let's discuss some of the differences between the Fitbit Charge 6 and Pixel Watch 2.
For an amusement park outing with tweens who want to go off on their own for the day for the first time, one feature moms and dads shouldn't overlook is emergency check-in and tracking. On the watch, you go into the Personal Safety menu, then you'll set a timer, and the watch uses your contacts and location sharing to send your location out if you don't check in when your timer goes off. You'll find this one on the PW2 only.
Both watch displays are plenty bright and easy to read in direct sunlight, so no particular win there.
Both watches feature Google Wallet, with the Charge 6 no longer using Fitbit Pay. The primary difference here is access. On the PW2, you simply double-tap the crown to bring up Google Pay, while it's a multi-step process on the Charge 6. First, from the home screen, swipe down, and the first thing you'll see is Google Wallet. Tap on that, and you'll have to enter your PIN to proceed, and that's the part that is somewhat clunky. You'll have to scroll to the number you want and select it, then scroll again to choose the next number, and so on until you've entered your 4-digit PIN. It's a quick process, but it feels lengthy when you're standing in line with people behind you.
Both devices now have access to YouTube Music, Google Assistant, and Google Maps. Of course, the original Pixel Watch had these items, as the PW2 does, but Fitbit's Charge 5 did not have access to all of these Google services. And it is for this reason you'll also now need to have a Google account to use the Charge 6.
Because I'm a Type 2 diabetic, the PW2 wins. I can add constant glucose monitor complications right to my watch faces so that I can track my blood glucose levels and how they're reacting to my meals in real time, 24 hours a day. You can connect the Charge 6, through the Fitbit app, to the service of your choice, as long as that choice is the OneTouch Reveal app from LifeScan. Fitbit is not currently compatible with any other monitors except those which use the OneTouch Reveal app. You can import data and manually log BG readings into the Fitbit app, but you can set all of that up to work automatically with various blood glucose monitors and services with the PW2.
Only the PW2 has an always-on display, but the Charge 6 has raise-to-wake, and it is quite responsive. I'm not looking at the watch when my arm is down, and the only time I do glance when the AOD display of the PW2 is active is when I'm driving with my arm in a position that it is raised, resting on the steering wheel. I can't say that I missed not having AOD on the Charge 6.
Arm Wars! Which wearable wins?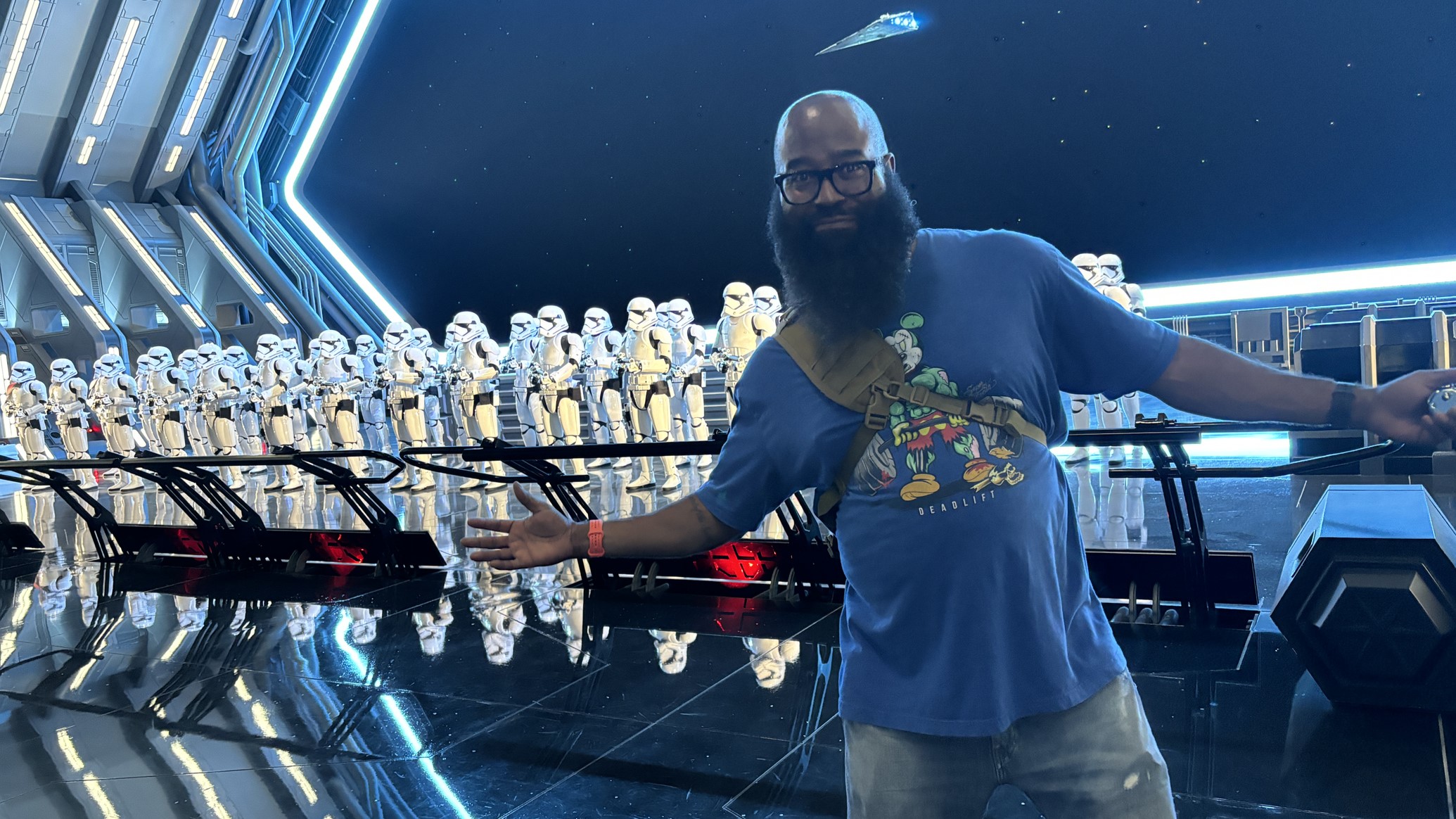 And let's bring things home, shall we? Battery life. Beginning with the Pixel Watch 2, it is much improved over last year. On light days, I'm easily getting around 24 hours on a charge, but I charge every morning anyway, and it recharges fast. In about an hour, I get a full charge from it being in the teens. That day, having taken the watch off of the charger around 10 a.m., I was still at 50% when I got home from Disneyland, which is an hour away from me, at around 2 a.m.
That day, I'd taken no calls, streamed any music, or initiated any workouts. The only workouts were the four short, automatically recognized outdoor walking workouts. While those numbers are good for a smartwatch, the Charge 6 is more of a fitness tracker than a smartwatch, and as such, I still had 94% left at 2 a.m. If you don't want yet another thing to charge daily, Charge 6 is your Huckleberry. Full stop. You'll only need to charge it once every few days or so. 
And with that, my Disneyland adventure comes to an end. A 14-hour adventure with 18,000 steps counted, 6% and 50% battery consumed, four auto-tracked workouts, a few churros, and some alcoholic beverages consumed, among other treats.
So, at the happiest place on earth, which watch left me the happiest? As a Type 2 diabetic, it would be the Pixel Watch 2. Even though I ate crappy, I still needed to keep tabs on how bad I was eating, and my glucose monitor complication on my watch is everything. But I was also surprised by just how much I thoroughly enjoyed the Charge 6. It gets out of your way and just lets you live your life while tracking important data and helping you make healthy decisions.
Which one would you wear on your own journey to the Galaxy's Edge? Holler at me in the comments!