What you need to know
The Meta Quest v59 update adds a Battery Saver mode that extends its capacity by reducing the graphical quality. 
Other Quest 3-exclusive updates include Suggested Boundaries, Assisted Space Setup, and new MR shortcuts.
Updates for Quest 2 and 3 users include YouTube Live Chat, a redesigned Family Center for parental controls, and hand tracking updates. 
The Quest v59 update will roll out gradually and may not be immediately available.
The first post-launch update to the Meta Quest 3 is here, and Meta isn't wasting any time adding new features to the headset. But one particular feature designed to fix the Quest 3's battery life woes will generate plenty of discussion. 
The Meta Quest v59 update, which will roll out gradually over the next few days, adds a Battery Saver mode, found in the Full Settings menu under "Power." Interestingly, we can already see a "battery extender" toggle in the current v57 build that works by "lowering overall graphical fidelity."
Although the Quest 3 has an official 2.2-hour battery life estimate, we've found that the headset can struggle to hit the two-hour mark for a single play session, proving that the headset's more powerful Snapdragon chip and higher-resolution display do have some efficiency trade-offs. 
A Battery Saver mode would certainly help but also negate one of the main reasons to buy a Quest 3 over the Quest 2: the graphical boost. 
Meta doesn't specify how it implements these downgrades, whether its lowering the refresh rate, lengthening loading times, or something else. Given the specific Quest 3 graphical enhancements supported by the headset, we're curious how downgraded the headset can be without running into issues with more demanding titles. We've emailed Meta for comment and will update this post with any specifics they provide. 
Beyond this feature, the v59 update brings plenty of other additions and fixes, outlined in this Meta blog post and the release notes. 
VR-focused YouTubers will appreciate the ability to open YouTube Live Chat in the headset, letting you respond to comments during a livestream without having to take off your Quest 2 or 3. It's currently in early access, so you'll need to request access from Meta for now. Meta Quest headsets don't actually support livestreaming to YouTube right now so we're curious to see if this also adds that feature.
For everyday Quest gamers, there's a useful new shortcut if you run into frustrating glitches. Tap the Meta/Oculus button on the right Touch controller five times, and it'll take you directly to a bug report form. 
And you can now use emoji reactions or send avatar stickers to people's messages instead of having to use text every time. Plus, your People panel now has an Activities tab that's supposed to make it easier to see what friends are playing and join group calls — along with "recommended apps and games for your group to get together."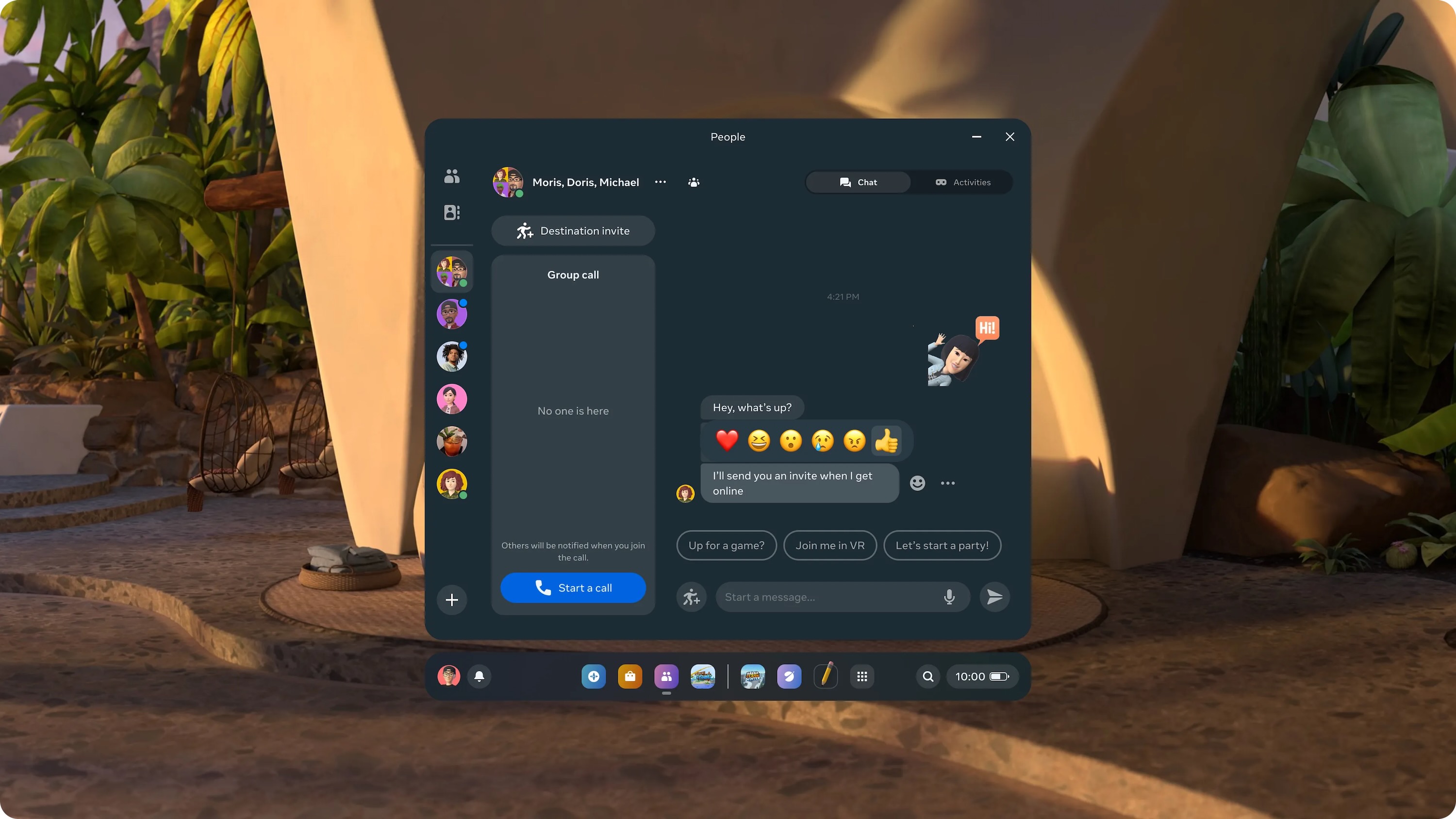 For new Quest 3 owners, you'll appreciate the "Suggested boundary" feature. Anytime you put on your headset somewhere other than your usual playspace, it'll suggest a boundary you can edit based on your surroundings instead of making you draw it from scratch.
Specific to mixed-reality games, the new "Assisted Space Setup" performs a similar function: if you open an MR app, it'll "run a quick 3D scan of your environment, creating a simple representation of the surfaces in your room, including walls, tables, and other furniture, so you won't have to manually add them into your space."
Meta even promises to improve how your hands look while in Quest 3 passthrough mode, "making it more comfortable to interact with panels and apps while in mixed reality." The challenge will be to make your hands visible without making them block your view of menus and text; we're curious what changes Meta will implement. 
Rounding out the long list of updates, Meta promises to bring the Remote Display app — formerly a Quest Pro exclusive — to the Quest 3 and 2 over time, so you can view your PC desktop in-headset. Your avatar in Horizon Home will finally have legs for the first time. And the Family Center in the Meta app will soon let parents set "daily time limits and scheduled breaks" for their teens or kids. 
Meta did a great job of improving the Quest 2 with updates in the years following its launch; we're glad to see that it's immediately taking the same approach with the Quest 3.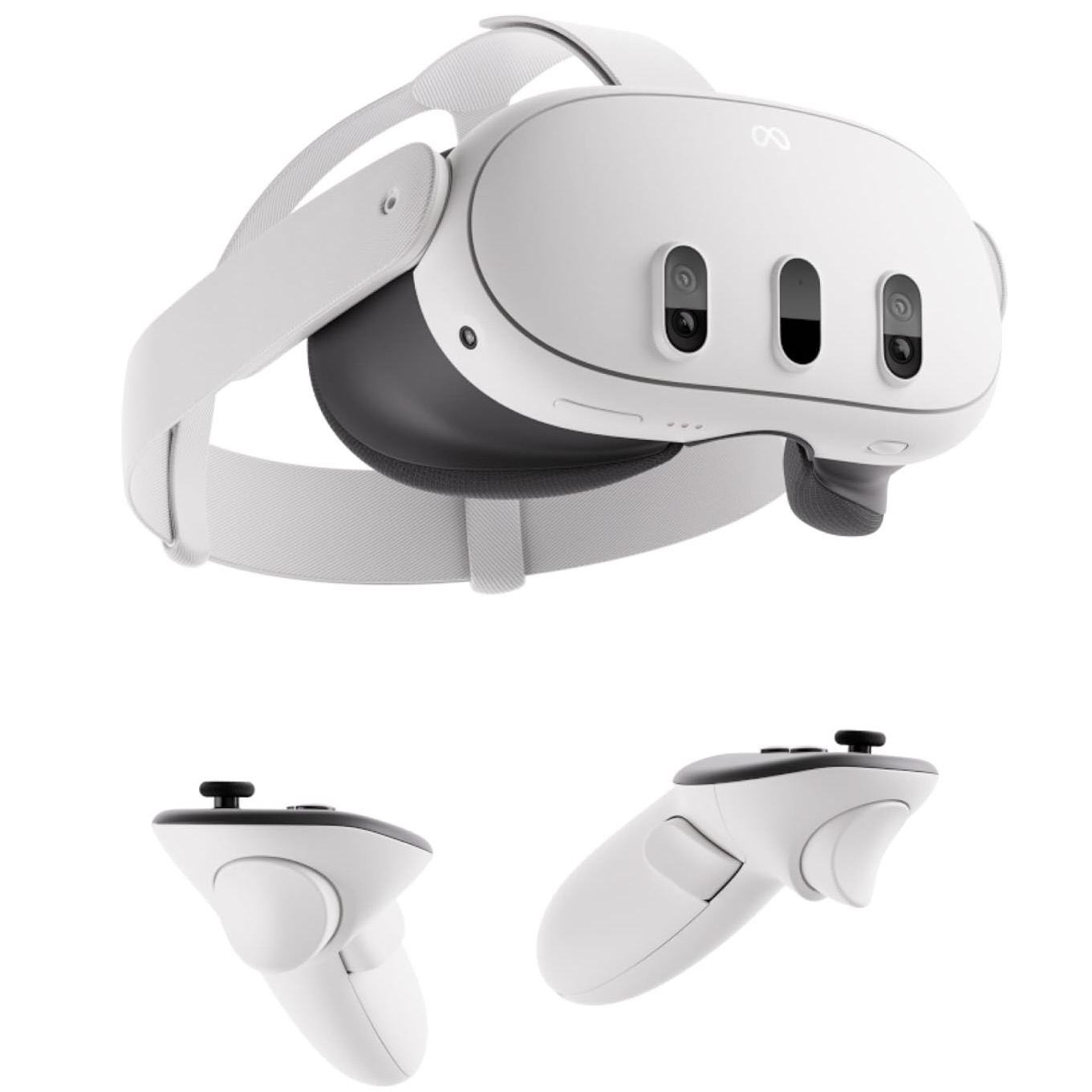 The Meta Quest 3 has enhanced resolution and graphical performance, full-color mixed reality passthrough for games and spatial awareness, and other upgrades that make it a bit more short-lived than the Quest 2. Battery Saver mode or a battery pack should solve this issue, however, and in most other respects it's an excellent device for VR fans.