Your laptop's built-in webcam doesn't hold a candle to the best Android phones out there when it comes to video quality, which is why many people use their Android phone as a webcam for their PC. The only problem with this approach is that it's not as convenient to set up, which is why most people settle for external webcams that are usually plug-and-play. That's why we were initially excited to see that Google is bringing native webcam functionality to Pixel phones with an upcoming Android 14 update. However, after actually trying it out for ourselves, our excitement has waned. 
Those of you who are running Android 14 on your Pixel phone might be a bit confused because this native webcam functionality is nowhere to be found. That's because it's only included in the Android 14 QPR beta releases right now. The way this feature works under the hood is quite complicated, but all you really need to know is that it turns your Android phone into a standard USB webcam that most PCs running Windows, macOS, or Linux will recognize. All you have to do is connect your phone to your PC via USB, pull down the notifications panel on your phone, open the USB preferences page, and then change the USB mode to "Webcam." 
You don't need to tinker with any settings or install any additional software on your phone or PC; your phone will just appear as an "Android Webcam" in video conferencing software like Google Meet or Zoom. Android 14 does offer a preview of the video feed, let you adjust the zoom level, and change which camera lens is used, but you don't get any of the myriad of controls offered by third-party webcam software like Camo.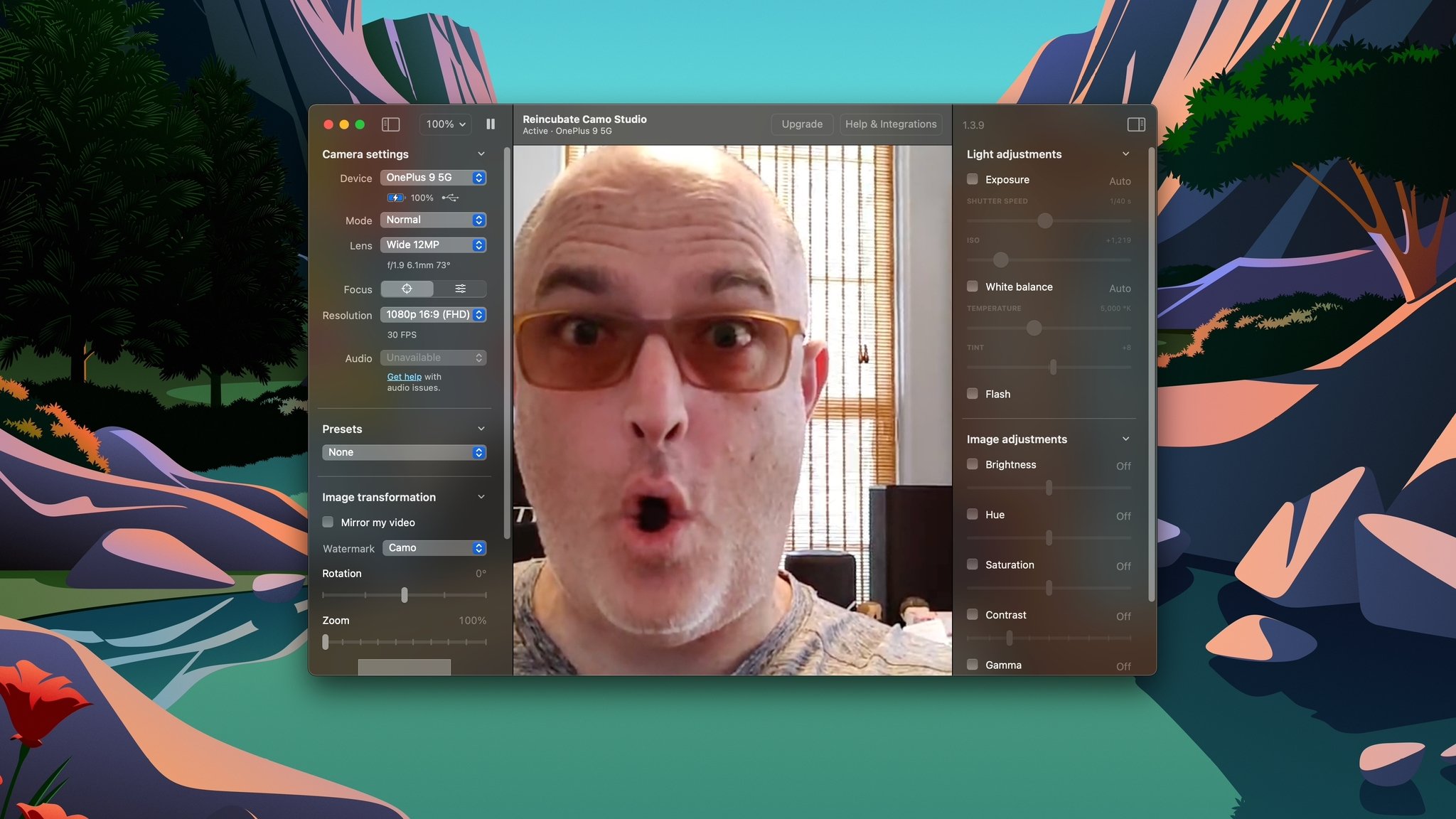 I don't think there's anything wrong with Google keeping Android 14's webcam feature simple, because most Android phone cameras can handle typical home office lighting scenarios just fine. But there does seem to be something wrong with the way Google set up the feature in the first place, because for some reason, the video quality is substantially worse than what it could be.
For example, here are some screenshots from a Google Meet call where I used Android 14's webcam feature, Reincute's Camo app, and the scrcpy tool's camera mirroring feature on my Pixel 8 Pro. Android 14's webcam feature doesn't let you choose the resolution or frame rate, though since it maxes out at 1080p 30fps, I used that resolution and frame rate in Camo and scrcpy.
Just to be sure that neither Google Meet nor my Pixel 8 Pro were the issues here, I also tested my Pixel 6a, Pixel 6 Pro, and Pixel 7 Pro on a separate PC, with different cables, and in Zoom and OBS Studio as well. The results were consistent: Android 14's webcam feature offered substantially inferior video quality compared to Camo and scrcpy. I recorded a couple of videos locally through OBS Studio and uploaded them to YouTube in case you want to see how dramatic the difference in quality really is.
I would be lying if I said Android 14's webcam feature is unusable — far from it, in fact. When I used it on my Pixel 6 Pro to record episode 18 of the Android Faithful podcast, none of my co-hosts or audience members complained about my video quality. When I switched to using scrcpy as my webcam in episode 19, however, my co-hosts could definitely tell there was a big boost in quality.
You might think that increasing the webcam quality to 4K30 like I did when I recorded episode 19 of Android Faithful would cause my Pixel 6 Pro to overheat and lose a ton of battery even when plugged in, but that actually wasn't the case. Before the show, I ran scrcpy's camera mirroring feature at 4K30 for an hour and noted the battery level and temperature of my Pixel 6 Pro.
After an hour, the battery level only dropped 5%, and the temperature only reached 36°C. When I recorded this data again over the two-hour period that the podcast was recording, the battery level only dropped 6%, and the temperature only reached 37.3°C. The tests I ran were far from scientific and, of course, were dependent on the device I used and the ambient temperature in my recording environment (~23°C). Still, I think I've demonstrated that thermal/battery concerns aren't really at issue here. 
When Google's own marketing tries to sell the idea that Android 14 will let you use "your epic Android camera" as a "beautiful webcam," I think it's fair to have high expectations. I think most people are just so accustomed to mid-tier webcams and video conferencing software compression that the bar has been set so low for what makes a "good" webcam. My $1,000 Pixel 8 Pro shouldn't just be a good webcam; it should be an amazing one. 
I'm not exactly sure what the issue is with Android 14's webcam feature, but I would be surprised if it's something Google can't fix. It's not like Camo or scrcpy are doing anything special to improve video quality when using your Android phone as a webcam — they're using the same API (Camera2) to access the device's camera, after all. My hope is that Google just chose rather aggressive compression settings so that users on less stable or slower networks won't face issues during video calls. 
I said earlier that I don't think there's anything wrong with Google keeping things simple. Still, I think Google should at least provide an option to use higher-quality settings, perhaps with a warning that these settings could cause the device to overheat or degrade the battery longevity if used for a prolonged period. Because as of right now, I can't recommend using Android 14's webcam feature over third-party solutions.