Black Friday is just around the corner, and my body is ready. I've been saving up a good chunk of my money to splurge on all the coolest gadgets and accessories that I don't want to pay full price for but would love to own. Portable power banks are high up on that list.
It's nice to have about two to three battery packs at hand. You never know when you might be in an unfortunate situation, and it might come in handy. Usually, one of these power banks costs a lot if you want fast charging, larger capacity, and decent specs. Wireless charging ones are even more expensive, which is why seasons like Black Friday and Cyber Monday are great for snagging discounts and deals.
So, without further ado, here are the power banks I'm hoping to buy this Black Friday.
1. Shargeek Storm 2
The Shargeek Storm 2 is an achingly beautiful accessory that boasts an insanely cool transparent design. It's a weighty device with a gigantic 25,600mAh capacity. Sure, this power bank isn't portable, but it's just so good-looking and unique that any nerd like me can't resist it.
Not only does the Storm 2 have one USB-A and two USB-C ports, but it also comes with a DC port that's rated for up to 75W power input and output. This makes this the ideal power bank for juicing up just about anything, including laptops that don't charge via Type-C. Shargeek also includes a matching yellow USB-C cable and an LED screen built-in.
While this 100W USB PD battery pack usually retails at around $229, it regularly goes on sale during shopping festivals like Prime Day and Black Friday. We say a 30% discount on Shargeek's power banks during the October Prime Big Deals Day sale, so hopefully, the upcoming sales will be even better.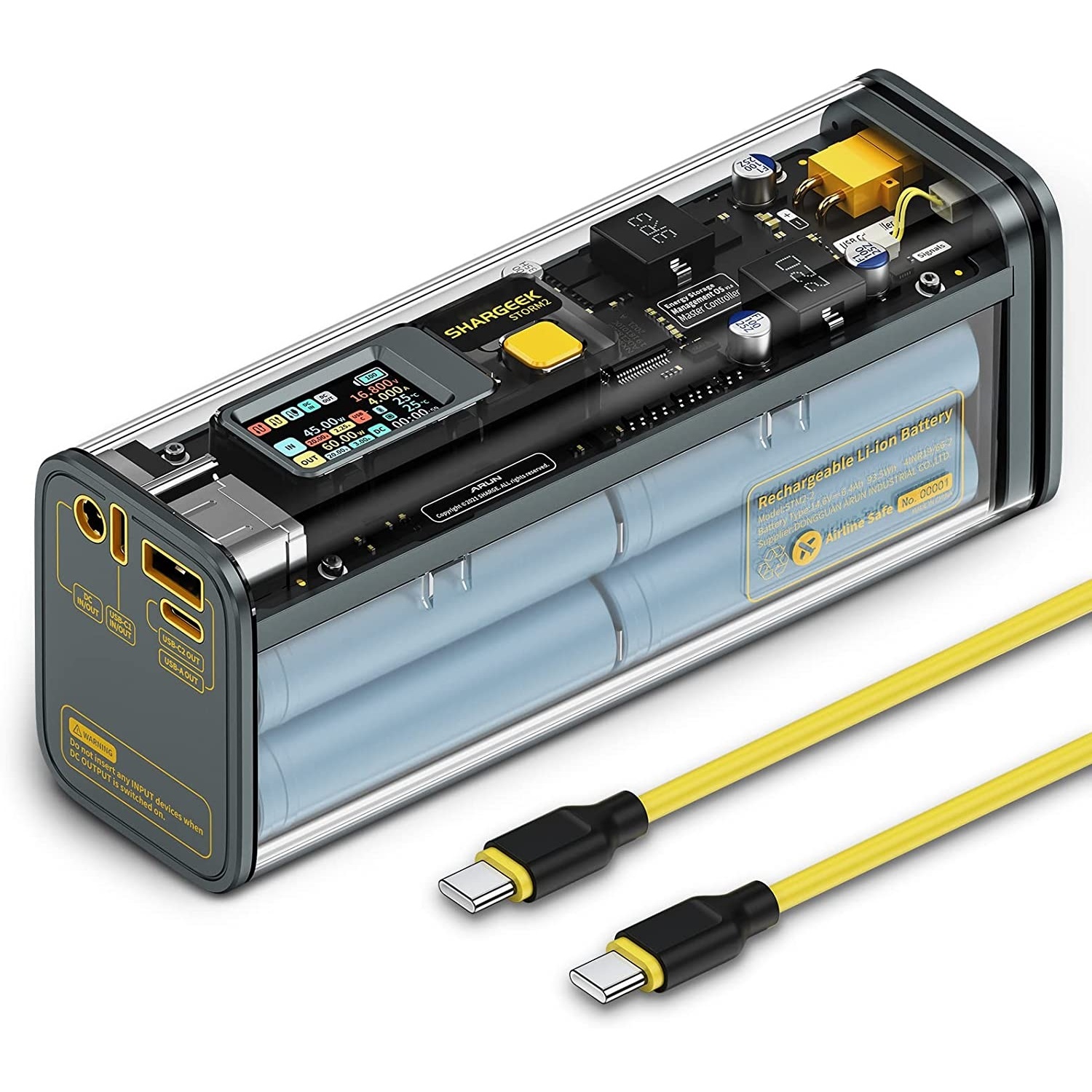 Enthusiast's power bank
The Shargeek Storm 2 is possibly the geekiest charging device around, in the best sense. Its transparent design, LED screen, and included ports are all incredibly useful and good fun, too.
2. Baseus Blade 100W Power Bank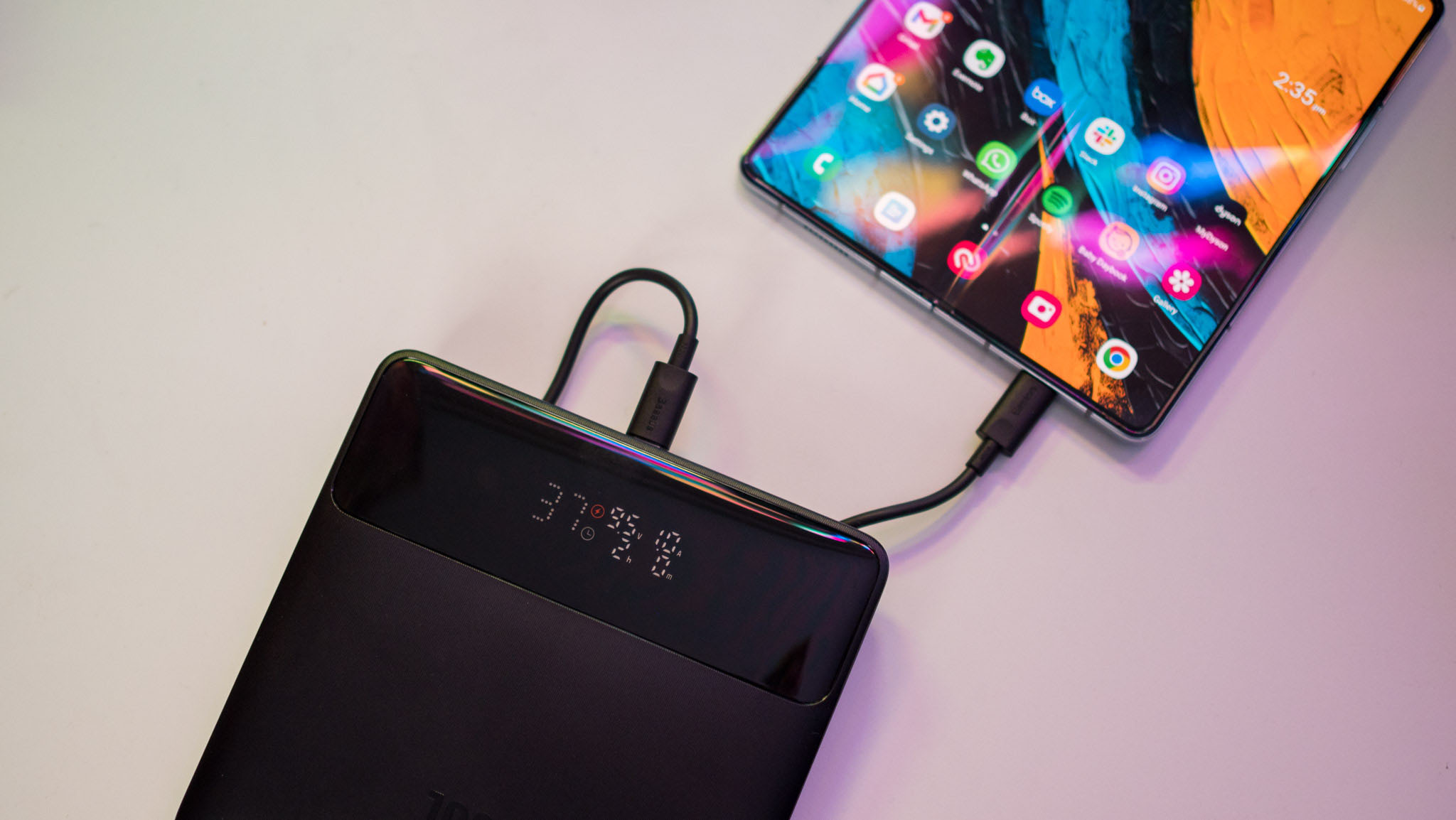 The Baseus Blade 100W Power Bank has achieved a nearly legendary status at this point, and for good reason. This mighty power solution once saved me from a very dangerous situation, and I've been a fan ever since. The 20,000mAh portable power bank is impressively slim, though it is pretty wide, so you can't pop it in a purse or bag as easily.
While I used to own one of these before, I recently moved overseas and accidentally left mine behind. This clever accessory has been tremendously helpful to me in the past, which is why I've got to score one this Black Friday. Sadly, I missed my chance during the October Prime Day sales when it was nearly half off, but I'm hoping with all my might that it's on sale for the same amount or even cheaper in November!
The 100W Baseus Blade also has an LED display. You get two USB-C PD 3.0 ports with support for PPS charging, meaning all phones and laptops can charge at their top speeds as long as they support a maximum of 100W. There are two USB-A ports as well. Baseus includes one of its famously reliable C-to-C cables in the box, along with a sleeve to carry the cable and the power bank.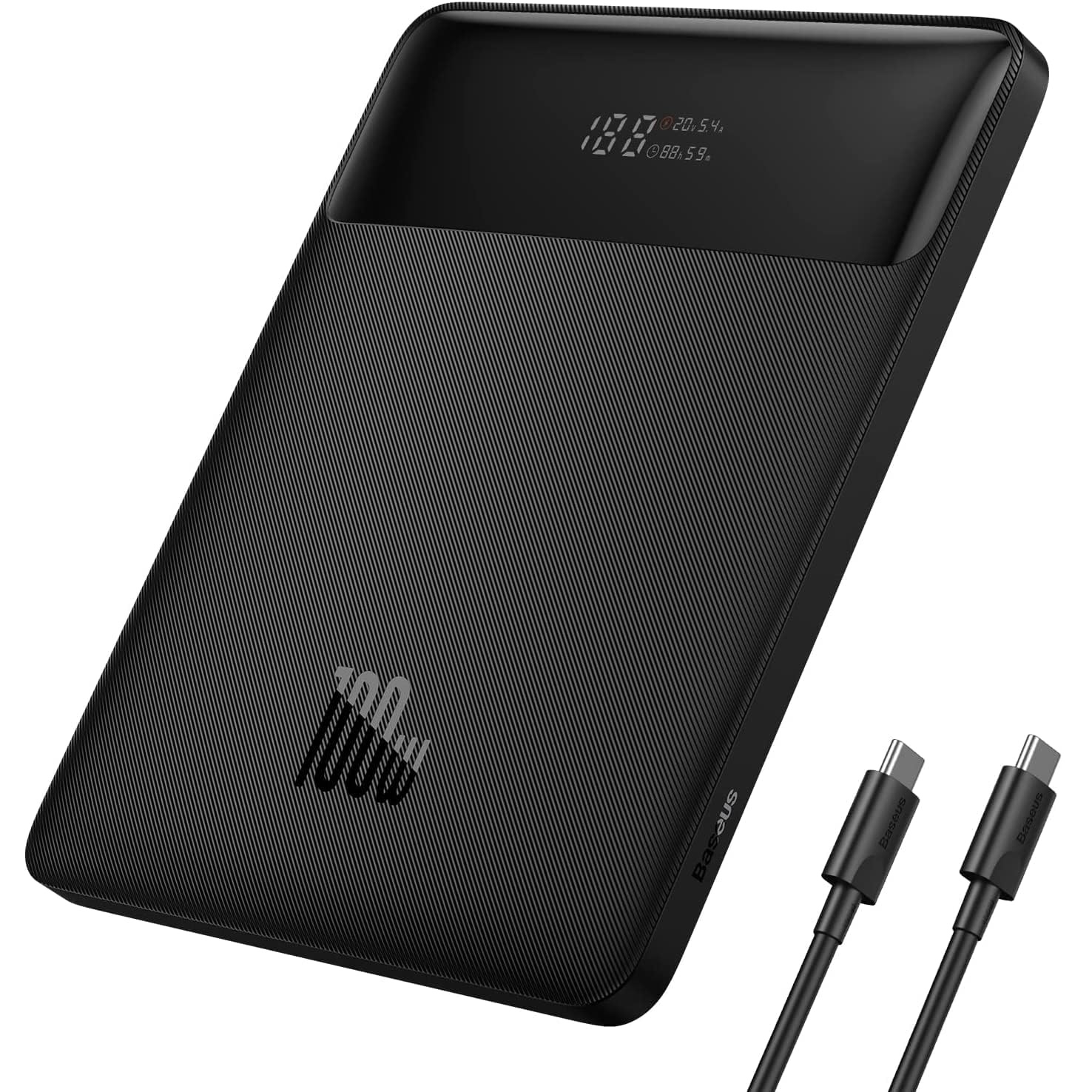 Baseus Blade 100W Power Bank
Trustworthy brand
Baseus never fails to deliver when it comes to high-quality charging products. The Blade 100W Power Bank is sleek, has a high capacity, comes with plenty of ports, and delivers super-fast charging speeds to various devices on the go.
3. Goal Zero Sherpa 100 PD Qi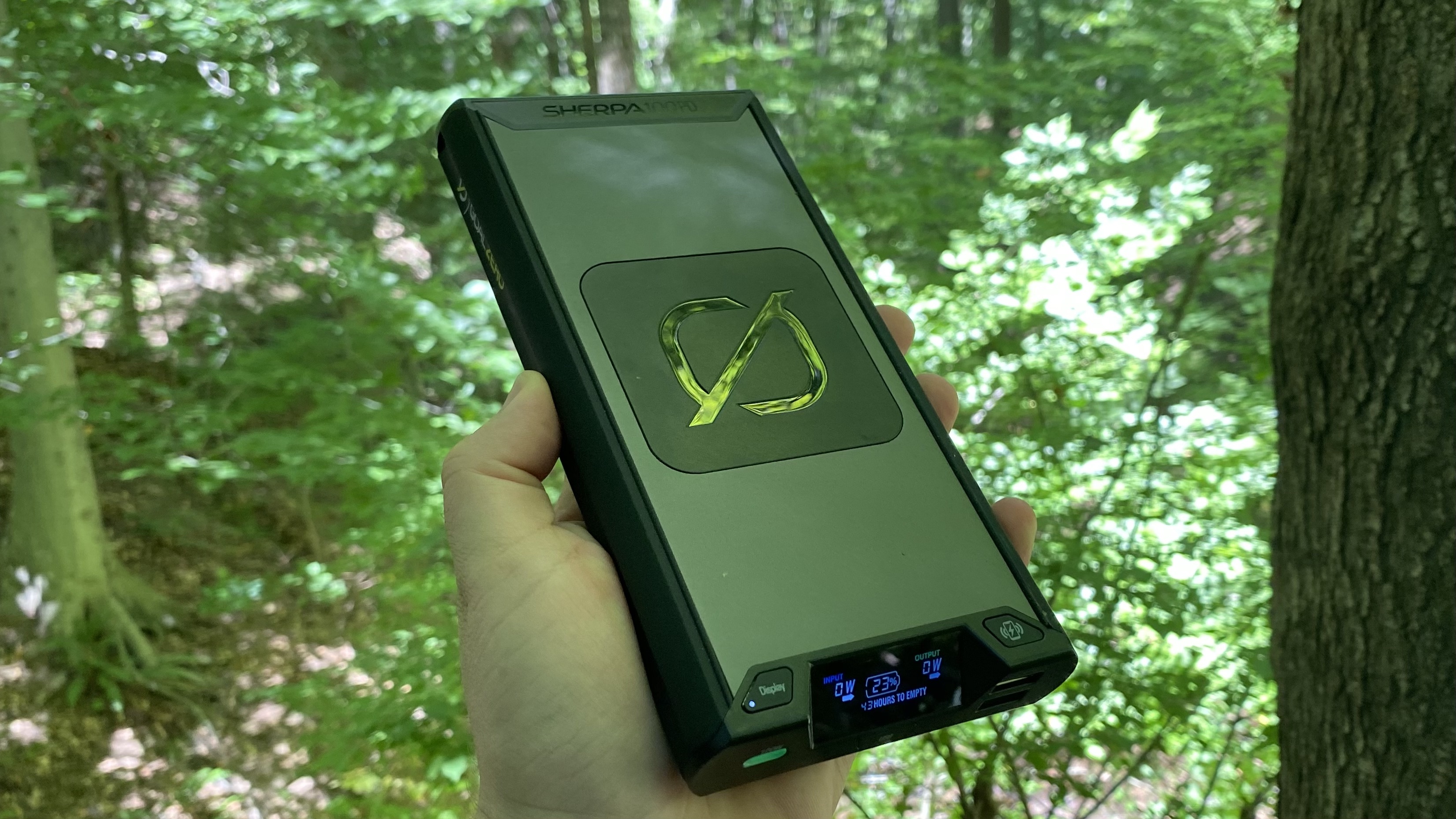 After the Shargeek Storm 2, this is probably the next most-wanted power bank on any technophile's wishlist, myself included. Unlike most other high-capacity power banks, the Goal Zero Sherpa 100 PD Qi actually comes with wireless charging support.
It may not be transparent, but this battery pack doesn't need sex appeal to win anyone over. The raw specs and power are impressive enough. You get a whopping 25,600mAh cell with 100W charging speeds, as long as you use the right USB-C cable with it. Sadly, Goal Zero only includes a 60W cable in the box.
On top of that, the Goal Zero Sherpa 100 PD Qi portable power bank has two USB-A ports, a single USB-C PD port, and a 15W Qi wireless charging pad embedded on the top. There's also a small indicative LED display on the side. You can utilize the same Type-C port for power input and power output, thanks to a toggle on the back.
Goal Zero does not go easy on the price, asking for an astounding $200 for the handy battery pack. And this is exactly why I refuse to buy it at full price, even if I love the concept and am confident that it will benefit me greatly. With crossed fingers and bated breath, I'm hoping for a fantastic deal that will allow me to finally have the Goal Zero Sherpa 100 PD Qi in my possession.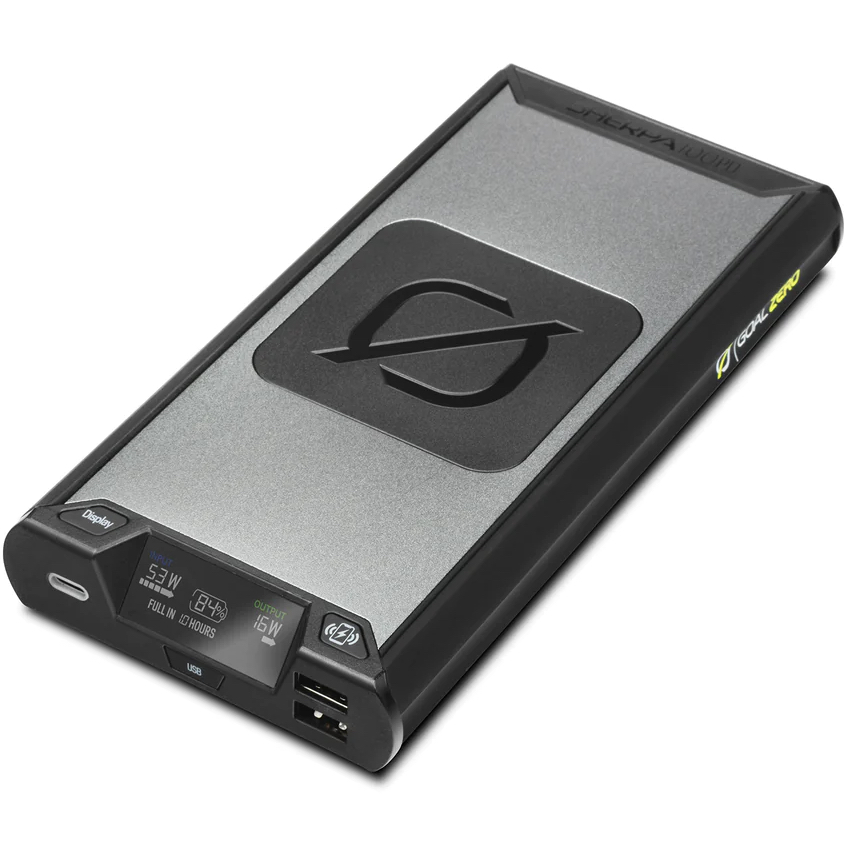 Goal Zero Sherpa 100 PD Qi
No wires, no problem
Need a lot of energy on the go? The Goal Zero Sherpa 100 PD Qi is one of the best high-capacity power banks with an ace up its sleeve: a 15W Qi wireless charging pad built-in.