VR news of the week
As part of a weekly series, Android Central Senior Editors Michael Hicks and Nick Sutrich are rounding up all of the news on hardware, game announcements, leaks, and cool updates related to the Meta Quest 3 & 2, PSVR 2, and other VR headsets. 
Normally in the tech world, the hype and news crescendo when the product launches and then dies down to a murmur. That's absolutely not the case with the Meta Quest 3, which keeps generating intriguing VR news and leaks. 
In the past few days, we learned that Meta tried to bring the Play Store to the Quest 2, but Google said no; that the Quest 3 can't add an eye-tracking mod; and that Meta wants to team up with Tencent to launch the Quest 3 Lite in China, directly challenging the struggling Pico.
We also know that Samsung has a set date for its XR headset of late 2024, with a very conservative sales target compared to the Apple Vision Pro. Clearly, Samsung is taking a wait-and-see approach before going all-in on premium, productivity-focused VR. And one of the latest big game releases, Powerwash Simulator, is a complete blast (pun intended).
Beyond the headlines we've already covered, we've rounded up the VR news of the week for November 11 to keep you informed! Let's dive in. 
Reuters reports that ByteDance has fired hundreds of Pico employees working on its VR technology, retaining most of the hardware staff while moving most of its software team back into other ByteDance divisions. 
UploadVR, meanwhile, reports that Pico's exclusive Beat Saber competitor has been canceled and its developers laid off. 
VR developer CIX posted a leaked transcript of an internal ByteDance meeting on X/Twitter. ByteDance apparently wants to focus more on "long-term value points and reduce investment in other aspects in the short term." One apparent "short-term" division is "marketing services," suggesting that Pico is going to try to sell hardware without paying to advertise it. That seems…ill-advised. 
I have received a leak of the internal meeting with Pico CEO Zhou Hongwei about next steps of the company.The TLDR:"Market didn't grow as fast as we anticipated. Cutting expenses to focus on R&D. Mobile team merged with R&D and Engineering."Full transcript:"The following… pic.twitter.com/sZVggzhGb0November 7, 2023
See more
As I explained when I wrote up Meta's Q3 earnings call, Meta's Reality Labs division is still losing billions of dollars every year despite owning the most popular VR headset in the world, but can subsidize the R&D losses thanks to making billions on other software. ByteDance may not have that kind of economic patience or the same ability to afford an unprofitable VR division, if Pico isn't growing at a rate they expected. 
This news also explains why Meta might feel comfortable selling its Quest 3 Lite in China, a market where Pico has dominated thus far. It'll all depend on whether Meta and Tencent get "government approval" for their proposed partnership, according to the Wall Street Journal. 
Facebook is banned in China, and Mark Zuckerberg isn't especially popular there because of his 2020 Congressional testimony that "it's well documented that the Chinese government steals technology from American companies." CNBC reported in July that Chinese state media "rebuked" him when he expressed interest in selling Quest headsets in China.
The Meta-Tencent partnership could break through this hostility, but the WSJ report said that the deal is "provisional" and was apparently "challenging" to put together, so there's no guarantee it'll go through. 
Still, with Pico metaphorically waving the white flag to focus on long-term goals, Meta and Tencent could really profit from this plan if it works out. 
Boz explains why the Quest 3 can't add eye tracking later
In a recent Instagram Stories AMA, Meta CTO Andrew Bosworth explained the difficulty of adding an eye-tracking accessory for Quest 3 owners willing to pay extra for the privilege (transcript via UploadVR):
With so many Quest 3 accessories that completely change its appearance and capabilities, and with Meta so willing to experiment with headset updates, it wasn't an idle hope that the headset could add camera functionality too. But unfortunately, Boz says that only lower-face tracking would be possible as an add-on, which wouldn't be especially useful by itself. 
Astrobeam has us excited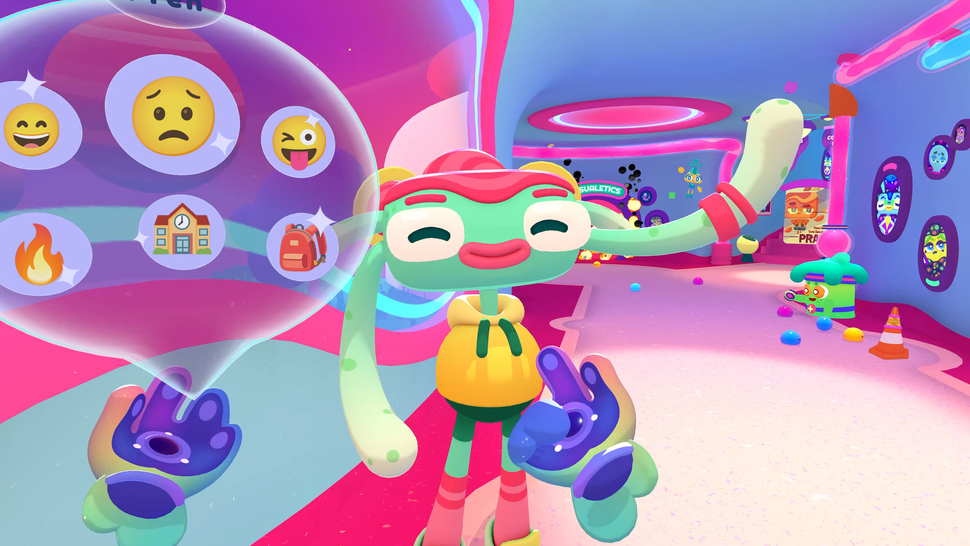 Owlchemy Labs makes some of the best Quest games, and that's not hyperbole: Job Simulator, Vacation Simulator, and Cosmonious High are all fantastic, charming experiences that we recommend to new VR gamers and younger users. 
So we're intrigued what games will come out of Astrobeam, a new game developer founded by former Owlchemy CEO/CTO Devin Reimer. The announcement says their games will leverage "incredibly natural and highly interactive ways of socializing by focusing on hand tracking and voice communication with both friends and NPCs."
That essentially sounds like more of the same, except with a greater focus on multiplayer over single-player experiences. We love our intense VR action and shooter games, but we also want to balance them out with joyful experiences, while also adding more solid hand-tracking games before the controller-free Quest 3 Lite launches next year. 
We do wonder if that childlike joy will persist when dealing with other people in multiplayer games, though. I've played Gorilla Tag; I know how bad things can get.
November is bloated with new games
Just look at our list of upcoming Meta Quest games, and you'll know what we mean. Aside from games already out like Demeo Battles and Stride Fates, you have Assassin's Creed Nexus VR for fans of the franchise — keep an eye out for our review next week — and that's just the start!
Beloved shooter Pavlov Shack finally jumps off of App Lab on November 14. Sniper Elite VR: Winter Warrior, from another popular non-VR franchise, looks intriguing as well. Then Stranger Things VR will close out November, along with some cool-looking indie titles like Ironstrike and Terra Alia. 
In fact, the only thing more stacked than November is December! At that point, you get Asgard's Wrath II, Lego Bricktales, Arizona Sunshine 2, Bulletstorm VR, Racket Club, Arashi: Castles of Sin, and other cool-sounding titles. 
Basically, if you're looking for things to ask for from family for Christmas, maybe ask for a Quest gift card. 
SteamVR's Theater Screen makes it easier to play non-VR games on your Quest
SteamVR Beta 2.1.1, announced on Monday, introduced the new SteamVR Theater Screen for "undocking screens from the dashboard." SteamVR has had the Desktop Game Theater app for years that fulfills the same function, but this new version is supposed to let you "toggle the screen off, dark mode, screen curvature, and controls to resize and reposition the screen."
Plenty of third-party apps like Virtual Desktop let you play PC games on a 2D theater screen, but it's always nice to have a first-party option available in one app! This feature is only in beta for now, but it should come to the full version soon. You just need to have SteamVR set up on your Quest.